L'italiano per narrare e per narrarsi (II parte)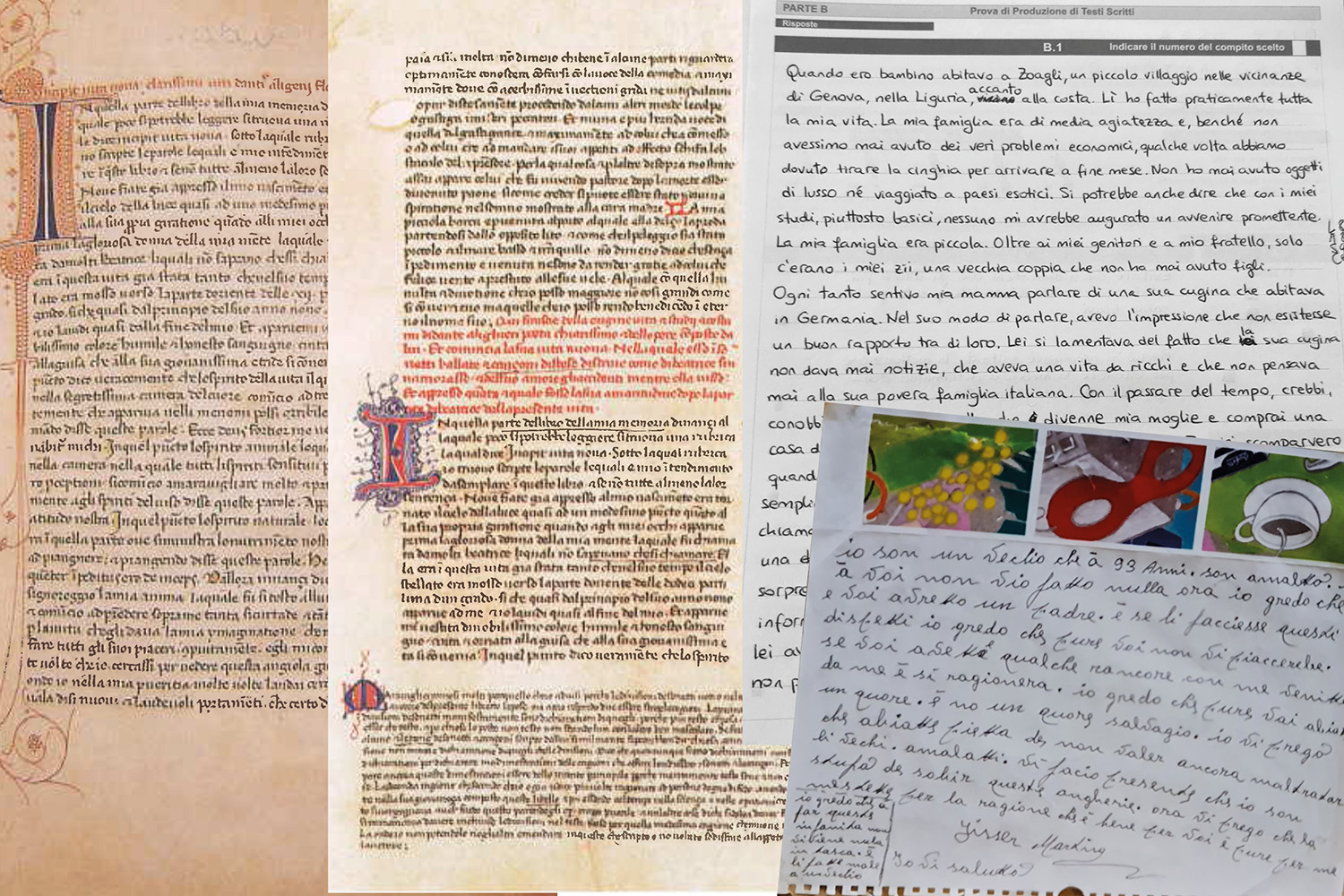 Focusing on Italian to narrate and to narrate oneself, this course provides wide-ranging training opportunities for both foreign language and Italian L2/FL teachers, based in either Italy or abroad. In doing so, it offers all those who may be interested (teachers, teacher trainers, head teachers, scholars, students, lovers of Italian language, literature and culture) the chance to develop a deeper understanding of specific pedagogic, linguistic and literary-cultural aspects related to the Italian language.
In order to meet the needs of both teachers of Italian schools at all levels and teachers who teach abroad, the Course is proposed twice a year, in January and June, and is organised is 3 modules, covering the main training areas pertaining to the continuous professional development of both foreign language and Italian L2/FL teachers.
Due to the continuing health emergency, the Course planned for July 2021 will take place online, via Teams.
---
Duration of the Course
2 weeks of lessons, 30 hours per week, 60 hours in total, from Monday to Friday.
---
Structure of the Course
3 modules: methodological, linguistic, cultural-literary.
The methodological module, coordinated by Roberto Dolci, will include activities focused on the frontiers and best practices in language teaching methods. It will consider the findings deriving from a number of different disciplines, ranging from educational linguistics to sociolinguistics, and from computer science to communication studies
The linguistic module, coordinated by Francesca Malagnini, will focus on the study, the analysis and the pedagogy of teaching Italian to L1 and L2 learners. In particular, the activities will centre on the different aspects pertaining to the textual, lexical and semantic, morpho-syntactic, phonetic and phonological levels of linguistic analysis, with an in-depth attention devoted to the evolution and the current trends of contemporary Italian, also from a sociolinguistic perspective. As for Italian L2/FL, a series of lessons will explore themes related to Italian Sign Language, psycholinguistics and digital tools for language learning.
The literary-cultural module, coordinated by Floriana Calitti, will involve lessons and workshops related to cultural aspects of past and present-day Italy, with specific reference to memorial oral texts from the Second World War, to autobiography in film, to pictorial portraits as representations of the self, and to literary texts spanning from Vita Nova to Pavese, up to the narrative writings of contemporary Italian female writers.
---
Certificate of Attendance
At the end of the Course, all participants will receive a certificate of attendance, containing the total number of hours.
---
Credit points
At the end of Course, participants may take part in a test. Passing the test entitles to 6 formative credit points, which may be used within Degree courses and Masters.
Participants wishing to enrol for one week only may also sit a test at the end of the week. In this case, passing the test will entitle to 3 formative credit points.
---
---
Enrolment
Participants may enrol for either the entire course or for one week only.
---
Enrolment procedure
Enrolments are open until 30 June 2021, 2pm. The enrolment fee must be paid before this date. It is possible to enrol for one week only.
---
Fees
As last year, in consideration of the continuing health emergency, the University has decided to promote the "in virtual presence" formula, with a significant reduction of the enrolment fees.
Course for 2 weeks: 200 Euro (instead of 500 Euro)
Course for 1 week: 100 Euro (instead of 250 Euro)
The payment may be made online, using the following bank account details:
BANCA UNICREDIT SPA
Agenzia Perugia Università Via Fabbretti, 97 – 06123 Perugia
Intestatario del conto: Università per Stranieri di Perugia
Codice IBAN: IT 31 H 02008 03043 000029465268
Codice BIC Swift: UNCRITM1J11
Causale: "Iscrizione al corso di aggiornamento per insegnanti di lingua italiana L2/LS (luglio 2021)"